Inaugural IMRevo Seminar Deemed A Success
Hosted at the brand new EagleBurgmann facility in Northwest Houston, the IMRevo Industrial Marketing Seminar featured a panel of inbound marketing experts.
The morning started with an introduction from Marketects Founder and CEO, Kerry O'Malley, who has over 30 years of industrial marketing experience.  O'Malley quickly inspired and challenged attendees.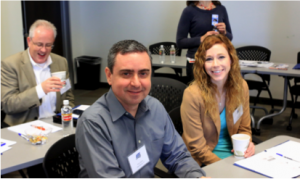 "Yelling louder, in more places, more often just isn't working anymore.  It's time to adopt a new way of marketing by attraction that pulls potential customers already searching for your products and services to your website.  Instead of yelling at our target audience, we have to start having a dialogue with them," O'Malley appealed.
The experienced panel of inbound marketing specialists then presented an model and explained the process for successful implementation that promises to drive more targeted website traffic.
The morning's agenda included:
Inbound Marketing Model – aka Search Engine Marketing (SEM) Model
Terri Hartley Hoffman of Marketing Refresh
Keyword Research
Chris Smith of DesignBigger
Smart Content
JoAnn Takasaki of GlobalWrites
Perceived Legitimacy through Design
Will Bradley and Gira Desai of Aleberry Creative Group
Content Distribution
Terri Hartley Hoffman
The Impact of Social Media
Aaron Eaves of DesignBigger
Onsite and Offsite SEO
Chris Smith of DesignBigger
Metrics and Analysis
Terri Hartley Hoffman of Marketing Refresh
Live Website Audit on the Texas A&M Turbomachinery Laboratory
Panel
Selling an Inbound Marketing Program to the C-Suite
Kerry O'Malley of Marketects
Attendees furiously took notes as the panel presented the various steps of the model, outlined actionable ideas and added statistics about Internet and social media usage by industrial, engineering and manufacturing users.
The panel also answered questions and provided insights about inbound marketing best practices and metrics tracking.
During lunch, attendees were treated to an entertaining presentation from Chad Pilbeam called "Everything I Need to Know About Marketing, I Learned from Beer".  Pilbeam, an experienced Marketer, Speaker and Creative Idea Guy talked about the parallels between the change in marketing trends in the beer industry and the revolution that is upon us in the B2B industrial marketing universe.
"I was pleased to see such a strong turn out for our first IMRevo seminar.  We've led our clients through numerous marketing trends, and the inbound marketing strategy is no different.  It's about constantly learning and adjusting to technology and knowing where your target audience is doing research and spending time," says O'Malley.  "I always want Marketects to be seen as an industrial marketing frontrunner.  Sometimes it can be painful for our clients, but we must constantly challenge and educate them so they are reaching their potential customers."
"We also want to thank Charli Matthews of EmpoweringPumps.com for showing our attendees a successful online marketing engine in the industrial market.  Empowering Pumps is a valued partner and helped us promote the event to their user base."
The Marketects team is currently planning additional IMRevo seminars.  O'Malley says they are considering offering a customized version of the seminar to corporations that want to educate their staff on the benefits of inbound marketing tactics that help to meet overall ogranizational goals.
"It's really more than a marketing tool.  Depending on the objectives set for the program, inbound tactics can address and effect many problems and goals company-wide."
If you would like to stay informed about future events, sign up for the Marketects email list.