Social Media Marketing: The Vehicle that Drives Your Industrial Content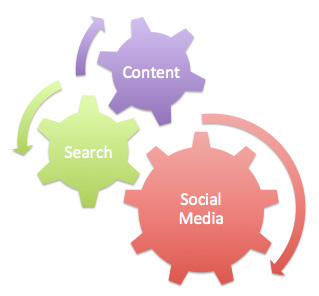 If your B2B company's content is the message, social media marketing is the vehicle that drives that message home.
The key is knowing what kind of vehicle you should be driving.  Sure, the sleek new sports car looks appealing, but it may now work for your particular business.  That's why mapping out your social media marketing strategy is important before getting in the driver's seat.
In order to devise a sustainable social media marketing strategy that increases sales and connects with your customer base, it's helpful to follow a set of guidelines to better deliver your industrial content  online.
Creating a Social Media Marketing Plan for Your Industrial Company  
Determine your target audience. As a B2B manufacturer or service provider, other businesses are your target market.  For this reason, it's important to be active on the social media channels other businesses frequent.  Facebook, Twitter and LinkedIn are always the big three and can put you in contact with businesses that aren't currently on your radar.  And we have to add that although Google+ doesn't yet rank as a major driver of new business opportunities in the industrial sector, don't ignore it. After all, it IS owned by Google.  Don't discount the SEO benefit you can gain from an active presence on this site.
Do your homework. It's tempting to start publishing content as soon as you set up your social media channels, but first thing's first: making your profiles customer friendly.  Be sure to research the best ways to optimize your profiles, covering everything from links to logos.
Find what works with the social media channels you choose.   Not every business is going to have the same plan of action because not every business is the same.  As an industrial company, you have to decide what components and features of each social media channel you should spend time on and which ones you can bypass.  Remember, your time is your most precious commodity so knowing what works and what doesn't is essential.
Schedule your content. Figure out how many days a week you need to update your channels as well as how many times a day and be sure to stick to that schedule.  Consistency is key when it comes to your social media marketing strategy.  And remember, you shouldn't follow the same updating schedule for each social media platform.  Updating Facebook once a day, business days only, is par for the course; but updating a YouTube channel with videos at the same rateis overkill.  On the flip side, Twitter is flying at the speed of light.  Tweet only once a day, and the likelihood of reaching the right people goes down considerably.  Another Twitter tip: If you're posting content developed by your own company (that links back to your website): reword your tweet and post the link at least 1-2 times per week for 4 consecutive weeks.
Reply to comments/messages. Just like it's proper etiquette to reply to phone calls and emails, you should also reply to social media comments and messages as well.  Your client base will see your social media channels as another way to reach you, which is a great thing as long as you carve out the time to check your channels throughout the day and keep in touch with your current and potential customers.
80/20 rule. When publishing content on yoursocial media channels, keep in mind the 80/20 rule.  Eighty percent of your content should be information based, giving your audience insight into your industry, emerging technologies, solutions for problems that are peripheral to the ones you solve for your customers, and other content that will resonate with your target audience.  The other 20% can be marketing based, giving your audience the opportunity to learn more about your company's services and/or products.
Social Media Marketing for Industrial Businesses
Like we mentioned in last week's post, Google's Hummingbird Algorithm update is pushing the idea of cohesion between your content and your social media marketing strategy more than ever.  It's no longer just about SEO so thinking through your industrial company's social media marketing strategy is vital to push ahead of the competition and grow your customer base! O-ring sizing charts
What steps have you taken to develop your industrial company's social media marketing strategy?