What You Need to Know Before you Develop a Brand Strategy: Part 3
In parts one and two of this brand strategy development series, I wrote a lot about what constitutes a "brand," why it is critical for your industrial organization to develop and maintain a strategic brand, as well as the importance of brand perception. In part three of the series I'll be reviewing what a value proposition is and the formula for developing your value proposition. If you've already worked through the steps of defining your value proposition, it is still good to review this topic from time to time to ensure your organization has remained on track. If not, this is a great opportunity for you to learn how to walk through the creation of your value proposition in your effort to develop a recognized brand.
Previously I touched on the subject of differentiation. As you consider your company's value proposition you will also be involved in the process of clarifying what differentiates you from your competitors. You will be working on 'sharpening your sword' and the early stages of clearly presenting your company to potential and current clients/customers.
Understanding what your value proposition is, creating and choosing your focus, and developing  your business's overarching message is all part of performing a fundamental brand review and/or strategic brand creation or repositioning strategy.
Value Proposition Definition  
Your brand promise or value proposition is a customer-centric statement that describes what your company offers in terms of tangible business results.
 It is what makes you relevant, exclusive, and believable.
 It is what will guide your corporate decisions and all business transactions.
 It is the overarching message that all communications flow from: internally and externally.
It is quite simply: the mission of your company and the reason it exists.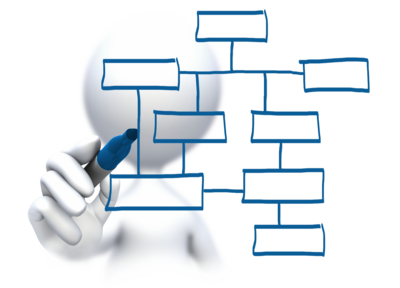 Remember to be realistic when defining your value proposition. You should not be attempting to create a mask to hide the true nature of your company. Instead, you need to be certain that your value proposition is true enough that those in your organization will be inspired by it and encouraged to devote themselves to the fulfillment of its higher purpose.
While you and your team are in the process of this brand review, recognize that you might be in the middle of or starting a rebuilding process where you are actually constructing a corporate philosophy and involved in taking a value inventory.
And of course, throughout this process, remember the reasons behind your choice to do this work. Do not lose sight of the fact that you are considering repositioning and strengthening your company because you identified a need for growth that would not necessarily be fulfilled by current and previous methods.
Remember that a bull's-eye strike can only be achieved repeatedly with precision aim.
Points of Differentiation
While you are developing your value proposition and clarifying differentiation, you will need to consider three important components of your statement:
 Points of Parity (POPs)
Points of Difference (PODs)
Points of Irrelevance (POIs)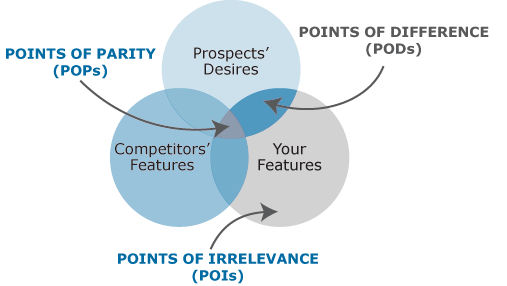 What is it about your company that is truly 'different' from that of your competitors? Make a specific list of all of the points of difference you can identify.
Your best value proposition will include:
Features
Tangible benefits to your customer
How you differ from your competitors to the greatest number of customers that represent the greatest opportunity for sales and growth.
Value Proposition Part 1
The product or service you sell must be relevant to your potential customers. There must be a need that your target customers have that you can meet completely.  In part 1, you are stating what your company does that gets you invited to the table.
Value Proposition Part 2
In what sense are you exclusive from other companies in your field? What makes you different? Why would potential customers have any actual or perceived reason for choosing you over your competition? It's very important for your senior executive team and in time the rest of your organization to be able to clearly describe in what way your company is special and unique in a  way that would give customers a reason to respond positively to your company above the rest. Write this point of exclusivity down in clearly defined, simple, but comprehensive terms.
Value Proposition Part 3
Believability is the third, but no less important, part of your 3-part value proposition. No one wants to purchase from anyone who is not going to deliver on what they promise. In B2B sales this is often even more important. Risk taking with a company that may or may not do what they say, for the price they agree to, and within the time schedule they promise can cost a company large sums of money if that risk does not pan out well. Write down in clearly defined and easy to understand words what it is that makes your company's claims legitimate and trustworthy so that your potential customers have a reason to believe you are credible.
All three attributes of your value proposition are absolutely essential. Your company's success depends on not only a well-crafted value proposition, but also how thoroughly it is embraced throughout your organization.
In the fourth and final part of this brand strategy development series, you will find an overview discussion of brand identity; brand positioning, brand strategy, and brand stories: soon to come!