Industrial Content Marketing 101: Define Your Brand Voice
If your company name wasn't tied to your content, could industry readers guess that the content came from your brand? If you said "no" – you're certainly not alone. The majority of small to mid-size industrial B2B's have never gone through a process to define their brand identity, thinking it's only important for companies that sell to the mass consumer market. Let me explain why that is so wrong.
The reality is that EVERY company has a brand identity … whether you are purposefully crafting it, or not. So what IS a brand? It's much more than your logo, or tagline, your products or services, and it's certainly not what YOU think your company is all about. Your brand lives in every day-to-day interaction any employee of your company has, every single experience that any person has with your company, and the public's perception of your company. In short: it's not what YOU think it is – it's what your customers think it is.
So I ask you … as marketers, shouldn't defining your brand identity be foundational to everything else you do?
For the purposes of content marketing, defining your brand voice is important so that everyone who creates content is aware of how your brand should look and sound. Even without a formal brand strategy, consistency in how you present your content over time will help to grow your brand's image. If you don't take the time to define brand voice, you could end up with a random assortment of voices and tones in your content that sends mixed messages about your brand, and could even confuse people.
This issue becomes more common in companies with a diverse content marketing team that could include freelancers, agencies, and various internal writers like engineers and other subject matter experts. Define your brand voice and document it as part of your content marketing strategy so everyone who creates content will be on the same page. Here's a simple process for defining your brand voice.
Describe your brand voice in a few words
An easy way to start is to ask, "if your brand was a person, how would you describe its personality to someone? Are there mantras repeated by management in your organization that embody your company values? Let's say these are the 3 main brand attributes you define:
Confident
Committed
Reliable
Define each attribute further.
How do these characteristics show up in your content and other communications?
Confident: assertive, authoritative, positive, decisive
Committed: expressive, enthusiastic, action-oriented
Reliable: genuine, trustworthy, authentic
Create a brand voice chart.
For each of the brand attributes you've defined, illustrate how it can be best expressed in your content with a brand voice chart. This tool can be provided to anyone on your content development team, ensuring that there is consistency in how your brand communicates.
For each brand attribute, include a column for descriptive text, do's, and don'ts. Here's a simple example: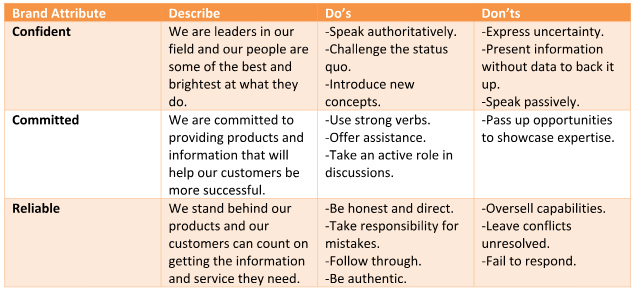 Plan a Brand Voice Meeting with your content team.
It's a good idea to have a meeting with anyone on your team to discuss your brand voice. Provide everyone with a copy of the chart, but go a step further. Prior to the meeting, pick some examples of existing content that was right on target in terms of brand voice. Also pick a few examples of content that were not. Share the examples with your team, and ask for suggestions on how the less than stellar examples could be revised to more accurately reflect your brand. If you choose content from your website, you'll kill two birds with one stone. Your team will have a more useful understanding of how to portray your brand in their work – and you'll have edited content to replace what you weren't satisfied with. Because social media posts are so unique, I suggest discussing these in addition to your evergreen content. Again, provide good and bad examples.
Taking the extra step of defining your brand voice for your content marketing strategy will make you stand out from the competition – and help to build and strengthen a brand identity for your company. If you need some guidance defining your brand voice, give Marketects a call. We've helped lots of B2B industrials figure out what it is that differentiates their brand, and we can help you too!