5 reasons you must have a responsive website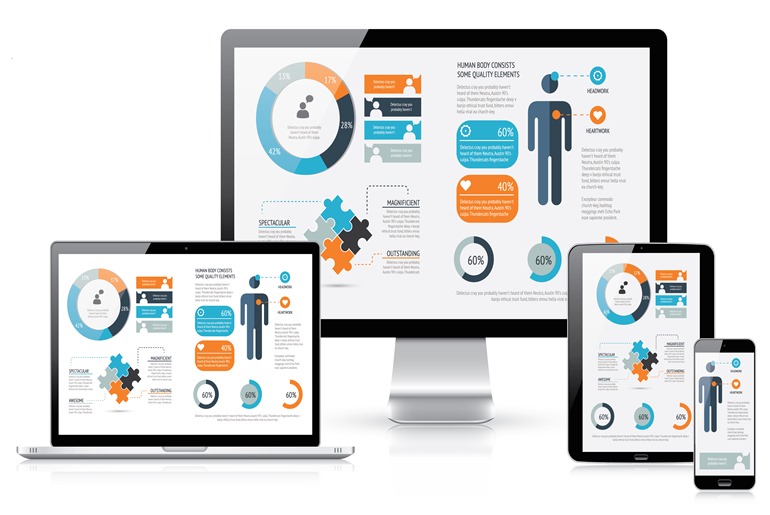 Did you know that use of mobile phones to access the web has gone up 700% since 2010, according to KPCB? The average user spends about 2.8 hours a day accessing the web through a mobile device, and it isn't all teens posting pictures on Instagram and Facebook. B2B users are using their lunch breaks and other down time to conduct business on their phones, and this includes browsing websites of companies they are considering contacting for one reason or another.
Just in case you're unsure of the definition: a responsive website is one that is designed so that no matter what device opens the site, it is scaled to the size of the device. There is no need to zoom in and out to read text or see the complete contents of a page. Even on a phone, everything has been designed to fit within the size of the screen.
So what does this all mean for those with a traditional, yet non-responsive website? In short, they are losing traffic, and ultimately, business. Here are a few compelling stats you should read.
On April 21, 2015 Google began expanding use of mobile-friendliness as a ranking signal. – Google
This means that websites with both mobile compatibility and mobile app connectivity will be awarded higher rankings in the massive search engine's results than those sites that do not. With most users using Google to find what they are looking for, including B2B users, even industry giants stand to lose precious search engine rankings if they do not adapt to this criteria.
And which mobile apps will be beneficial? It's no surprise that Google Chrome is the web browsing app of choice for the internet giant, although many mobile users can use their phone's built in browser, an IOS browser like Safari or Opera, or one they have modified for themselves. In short, a responsive website should work perfectly on all of these apps, not just one or two.
"Websites that rank highly in the search engine load quickly" – SEO Chat
It's no secret that everyone wants that coveted first slot in Google's search results for their priority keywords. However, there are many different factors that go into ranking which sites get top billing. One of the little known ways Google and other search engines choose the sites they present the user is how fast the sites load. For example, these sites were listed as the top site for their respective keyword and were all found to have quick page loading speeds:
Books – Barnes and Noble
Computers – Dell
Stock Market – NASDAQ
Website Development Services – Bit Wise Logic
Solar Panels – Solar Home
"Almost 64% of B2B technology buyers reported that they read between two to five pieces of content on a site before making a purchase." – Ecolo Media
Similar to the above, prospective customers want to read about you before making a purchase or even contacting you. Without a proper responsive website, they may not be able to read what they want to read if they visit your site from a smart phone or even tablet. In short, there's not much point in investing time and/or money in creating quality content if you can't get it to all prospective buyers.
"53% of B2B users reported that thorough contact information was a must have" – KO Marketing
You may have all your contact info such as your address, phone number, and email all listed on your site, but did you know that's not enough? Contact information should also be responsive. What does that mean? In short, can users tap your phone number and automatically be connected? Can they tap on your email and open an email window with your email address already loaded?  What about tapping a map and opening an interactive map that not only shows them where you're located, but gives directions on how to get there from where they are. These are becoming essentials for most mobile internet users. If it's difficult for them to reach you, you may lose them to the next company in the search results. In addition, do all of your contact forms work properly, load correctly, and only require the most basic information? This is also crucial to having a responsive, effective website.
"More Google searches take place on mobile devices than on computers in ten countries including the United States and Japan" – Google Inside AdWords
As confirmed above, B2B businesses looking to generate business nationally and abroad must be aware that users are more likely to search for products or services via their mobile device. This means that whether you generate website traffic organically or via a Pay Per Click campaign, whenever a user clicks on your link, it is probably from a mobile device. Getting a qualified prospect to your Home Page is just the beginning. Does your Home Page have compelling messaging that instantly tells a user what your company does? Does your site contain content that answers the questions of someone in any stage of the buying journey? Is your contact information easily found on every page? Think about how you use your phone or tablet for business. Which sites are easy to use and why? Which sites annoy you? Just think about your personal internet use on mobile devices and then hold your own website up to scrutiny. How does it score?
BONUS! 10 Best B2B Websites – Tradeford
Want to know what a successful and responsive B2B site looks like? Visit this list by Tradeford to see which websites made the cut. Of course, Alibaba.com and ThomasNet.com have top billing, but there are tons of other sites here that got it right.
Don't wait – take charge now
In the end, this change can be both a crisis for established companies who are comfortable in their web presence, and a wonderful opportunity for upstarts who want to edge out a larger competitor. If you feel in over your head, it may be time to have a thorough evaluation of your current site, a comprehensive plan to improve or replace it so that it IS responsive, and an expert strategy to stay ahead of this trend rather than be crushed by it. Call Marketects today at 281-360-1850 or email omalley@marketectsinc.com for a FREE audit and evaluation of your current site, a $400 value. We can help!